DBA Services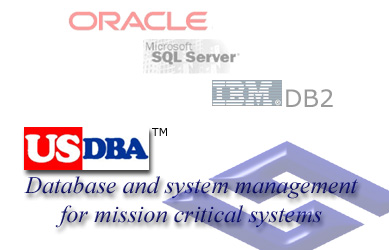 Solutionhaus USdbaTM group has the talent, experience and technology to ensure your Oracle, IBM DB2 and Microsoft SQL Server RDBMS based systems are running at peak performance with a minimum of downtime. Solutionhaus can assist your company though out the RDBMS life cycle:
RDBMS Related IT Strategies
Software Procurement
Capacity Planning
Impact Analysis
Installation
Configuration
Security
Database and Application Performance Tuning
Troubleshooting
System Upgrades, Patches
Unix Administration
Unix Shell Scripting
NT Administration
Health Checks
Backup and Recovery Procedures
Data Interface Creation and Maintenance
The Remote Option…
The advent of the Internet, combined with secure broadband connections (VPN, etc.) makes it possible to effectively monitor, troubleshoot, tune and manage enterprise RDBMS with specialists and data centers located far apart. Our Remote database monitoring and administration service offers clients an option to outsource or offload DBA duties
An experienced DBA can dial-in to your Database Server when requested and perform most standard DBA tasks without having to visit the site thus significantly reducing your total costs of operation.
Outsource DBA Duties
Regular Maintenance
Security Checks
Maintain availability while your staff is unavailable (sick, vacation, training, etc)
Redeploy In-house DBAs to focus on strategic task
An expert DBA available just a phone call away !