We know PeopleSoft®...
PeopleSoft and its "Pure Internet ArchitectureTM" is the world leader in enabling the availability and accessibility of real time business processes to employees, customers and suppliers. PeopleSoft offers best in class functionality in a complete line of integrated business processes:
Human Capital Management
Financial Management
Supply Chain Management
Enterprise Service Automation
And Solutionhaus is ready to help you achieve the promise of the true real time enterprise automation.
Not only do our consultants possess extensive PeopleSoft experience but they also have deep business process knowledge gained through years of experience in many organizations. Our people have been implementing PeopleSoft since version 1. Our training program ensures they have the tools and experience to tackle the most complex issues issues of the latest versions.
Our Methodology...
A Disciplined yet flexible approach
We've already done the team-building for you. And this team deploys your solution using our rapid implementat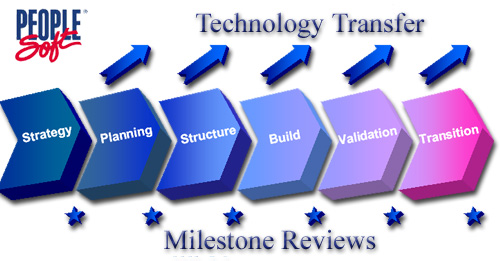 ion Methodology, a highly synthesized, repeatable and successful process for deploying and maintaining our solutions for a wide cross-section of clients and industries. Our rapid implementation methodology provides measurable business value, speed, and component flexibility that give our clients the ability to pick and choose the components they need to exceed their goals. Whether it is for Implementing, Upgrading or Tuning your system, we are ready to serve you
A defined scope, clear deliverables, milestone reviews, extensive documentation, standardized project management and continuous support ensure the success of the implementation.
We are your guest...
We are conscious that we are a temporary guest, not a permanent fixture inside your company, and as such our job would not be complete without technology transfer to ensure your team is empowered to take on the day to day management of your PeopleSoft system. While this fundamental principle makes so much sense, it is quite the opposite to the real life practice of the traditional consulting company.
"A La Carte" Services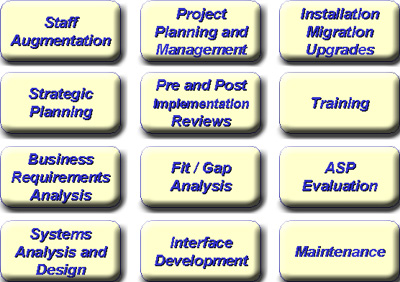 Services are custom tailored to each situation. Some Customers may elect to manage their own implementation or desire just some temporary help to smooth out the system management demands, perhaps need a custom interface developed, or modify some existing reports. Solutionhaus is here to assist.