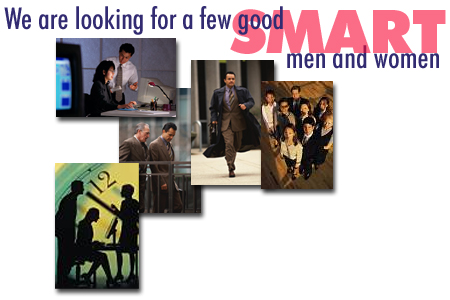 Itís no secret that our success depends on bright creative minds working together. Intelligence, Energy, Passion, Integrity, Knowledge, are some of the key elements of our culture and those are exactly the values that have earned us the trust of our Customers. To help us continue our leadership in business solutions, we hire highly talented people - usually the top five percent of job seekers.
Thereís lots of travel, the hours are long, customers are extremely demanding (as they should be), and the problems being addressed are never easy to solve (if they were, they would not need to call us...). Bottom line: this is not an easy job and itís not for everyone.

For us, though, this environment is energizing and extremely exciting, and we embrace the challenges with all the intellect and experience at our disposal.
The rewards are unlimited...

The Solutionhaus approach
Small tactical teams tackle vital assignments that challenge them to perform at their best individually to provide tangible value to the Customer. Nowhere else will you be so exposed to the leaders of business in a capacity as trusted advisor and make things happen that affect the lives of many people.
Our Culture
We work hard to avoid the chains of bureaucracy and retain our entrepreneurial, free-spirited culture. Smartly dressed here means wearing your thinking cap; Our attire is casual and the schedules flexible. We value family commitments above all else and are acutely aware that we work to live, not live to work.
Join the team
We are continually seeking smart, confident people to join us in helping our Customers. We are currently looking for experienced people that share our values and have the following skills:
Account Managers
Sales
Consultants (PeopleSoft, Oracle)
DBAís (Oracle, DB2, SQL Server)
Project Managers
Senior Executives with substantial experience
Please Note:
As part of Solutionhausí U.S. employment process, candidates will be required to complete a background check, prior to an offer being extended.
These background checks may include but are not limited to the following:

Prior Employment Verification
Education Verification
Social Security Trace
Criminal Background Check
Drug Testing
Motor Vehicles Records (where required for position)