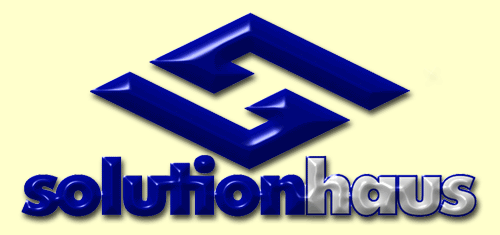 Legal Notices
Copyright and Trademark Notices
Copyright © 2002 by Solutionhaus Ltd.. All rights reserved. Solutionhaus, tempCIO and USdba are registered trademarks and the Solutionhaus logo, the tempCIO logo and the USdba logo are service marks of Solutionhaus Ltd. PeopleSoft is a registered trademark of PeopleSoft Corporation, Oracle is a registered trademark of Oracle Corporation, IBM is a registered trademark of IBM Corporation. Some photographs are copyright © of their respective holders. All other company and product names are trademarks or registered trademarks of their respective holders.
No Materials published by Solutionhaus on this web site, in whole or in part, may be copied, reproduced, modified, republished, uploaded, posted, transmitted, or distributed in any form or by any means without prior written permission from Solutionhaus. The use of any such Materials on any other web site or networked computer environment or for any other purpose is strictly prohibited and such unauthorized use may violate copyright, trademark and other similar laws.
Solutionhaus is an independent privately-held corporation and it is not affiliated in any way with PeopleSoft Corporation, Oracle Corporation or IBM Corporation.
Acceptance of Terms of Use
Solutionhaus Ltd.. ("Solutionhaus") offers you a wide range of content, and information about its products and services ("Materials") via this web site. By using this web site, you are agreeing to accept and comply with the terms and conditions of use as stated below ("Terms of Use"), which Solutionhaus may update at any time without notice. You should visit this page periodically to review the then-current Terms of Use. Please note that Solutionhaus may, at its sole discretion, terminate your access to this web site at any time without notice.
Limit On Our Liability. Solutionhaus Ltd., its officers, directors, shareholders, parents, subsidiaries, affiliates, agents, or licensers are not liable for incidental, indirect, consequential, special, punitive, or exemplary damages of any kind, including lost revenues or profits, loss of business or loss of data, in any way related to our services or for any claim, loss or injury based on errors or omission, interruptions or any other inaccuracies appearing on our website(s) (including without limitation as a result of breach of any warranty or other term of this Agreement). Any claim against us shall be limited to the amount you paid, if any, to us.
Communications. Except for any disclosure by you for technical support purposes, or as specified in our Privacy Statement, all communications from you to this web site will be considered non-confidential and nonproprietary. You agree that any and all comments, information, feedback and ideas regarding our company, products or services that you communicate to Solutionhaus ("Feedback") will be deemed, at the time of communication to Solutionhaus, the property of Solutionhaus, and Solutionhaus shall be entitled to full rights of ownership, including without limitation, unrestricted right to use or disclose such Feedback in any form, medium or technology now known or later developed, and for any purpose, commercial or otherwise, without compensation to you. You are solely responsible for the content of your communications and their legality under all laws and regulations. You agree not to use this web site to distribute, link to or solicit content that is defamatory, harassing, unlawful, libelous, harmful to minors, threatening, obscene, false, misleading, or infringing a third party intellectual or privacy rights.
Access to Password Protected or Secured Areas. Access to and use of password protected or secured areas of this web site, is restricted to authorized users only. You will be asked to provide accurate and current information on all registration forms on this web site. You are solely responsible for maintaining the confidentiality of any username and password that you choose or is chosen by your web administrator on your behalf, to access this web site as well as any activity that occur under your username/password. You will not misuse or share your username or password, misrepresent your identity or your affiliation with an entity, impersonate any person or entity, or misstate the origin of any Materials you are exposed to through this web site. Furthermore, your access and use of the secured areas of this web site will be governed by additional Special Terms of Use and you are strongly advised to review such terms prior to accessing or using those secured areas. If you violate your obligations under this section, you may be subject to prosecution.
Monitoring. Although Solutionhaus is not obligated to do so, it will have the right to review your communications on this web site to determine whether you comply with our Terms of Use. Solutionhaus will not have any liability or responsibility for the content of any communications you post to this web site, or for any errors or violations of any laws or regulations by you. Solutionhaus will comply with any court order in disclosing the identity of any person posting communications on this web site. It is advisable that you review our Privacy Statement before posting any such communications. Please note that when you conduct transactions with other companies providing content via this web site, you will also be subject to their privacy policies.
Links to Other Sites. The linked sites are not under the control of Solutionhaus and Solutionhaus is not responsible for the content of any linked site or any link contained in a linked site. Solutionhaus reserves the right to terminate any link at any time. Solutionhaus may provide links from this web site to other sites as a convenience to you and in no way should this be interpreted as an endorsement of any company, content or products to which it links. If you decide to access any of the third party sites linked to this web site, you do this entirely at your own risk. SOLUTIONHAUS DISCLAIMS ANY AND ALL WARRANTIES, EXPRESS OR IMPLIED, TO ANY SUCH LINKED SITES, INCLUDING BUT NOT LIMITED TO ANY TERMS AS TO THE ACCURACY, OWNERSHIP, VALIDITY OR LEGALITY OF ANY CONTENT OF A LINKED SITE.
Indemnity. You agree to indemnify, defend and hold Solutionhaus harmless from and against any and all third party claims, liabilities, damages, losses or expenses (including reasonable attorney's fees and costs) arising out of, based on or in connection with your access and/or use of this web site
Privacy Statement
At Solutionhaus, we are committed to protecting your privacy and to developing technology that gives you the most powerful and secure online experience. You can travel through most of our site without giving us any information about yourself. But sometimes we do need information to provide services that you request, and this statement of privacy explains data collection and use in those situations.
Personal information collected by Solutionhaus.net often is limited to name, address, telephone and e-mail address, but may include other information when needed to provide a service you requested.
Solutionhaus will not disclose your personal information, without notice, unless required to do so by law or in the good faith belief that such action is necessary to: (a) conform to the edicts of the law or comply with legal process served on Solutionhaus or the site; (b) protect and defend the rights or property of Solutionhaus, and, (c) act in urgent circumstances to protect the personal safety of users of Solutionhaus, its site, or the public.
Control of your Personal Information
When you give us personal information, Solutionhaus.net will not share that information with third parties without your permission, other than for the limited exceptions already listed. It will only be used for the purposes stated above. We strongly adhere to good internet ethics and deplore the use of spam.